How to Treat Hot Water Burns
Hot water or hot liquid burns are a common occurrence in the holidays especially when the little ones are at home. Immediate treatment should always consist of running the affected part under running water for 5-10 minutes. This allows the residual heat in the tissues to dissipate. Newer dressings technology means that superficial and some partial thickness burns can be treated with a clean of the burn area and application of a synthetic epidermal substitute which then does n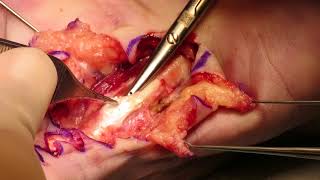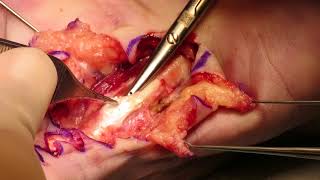 Excision of Gouty deposits from the soft tissue of the hand.
Excision of gouty deposits in soft tissues of the hand. The gouty deposits are being removed from the flexor tendons whilst release of the pulleys has also been performed in order to regain more movement in the fingers. This hardening of the soft tissue under the skin of the hand can look like Dupuytren's disease, but in this case, due to the other factors such as blood tests and X-rays, the diagnosis is one of uncontrolled gout. Left long enough, gout can cause severe deform
Bryan was fishing in Mozambique when he sustained a fish hook injury, which pierced the thumb extensor tendon. Bryan was treated by a General Physician in Mozambique who cleaned and sutured the wound but did not notice the tendon injury. Once he returned to South Africa, he went to see Dr Anton Potgieter who repaired the tendon and referred him to hand therapy. Bryan made a full recovery and was sable to return to flying his plane, playing golf and fishing.